Wednesday, June 14, 2023
Hunt is Recognized with 2023 Top Workplaces Award
Our team and our capacity continue to grow and we have expanded into new markets.  We've also re-structured the management of the company to support the growth to date, and allow for additional growth.
The company has more than doubled in size in the past 5 years but we're still family here.  And we have proof for the 4th year in a row!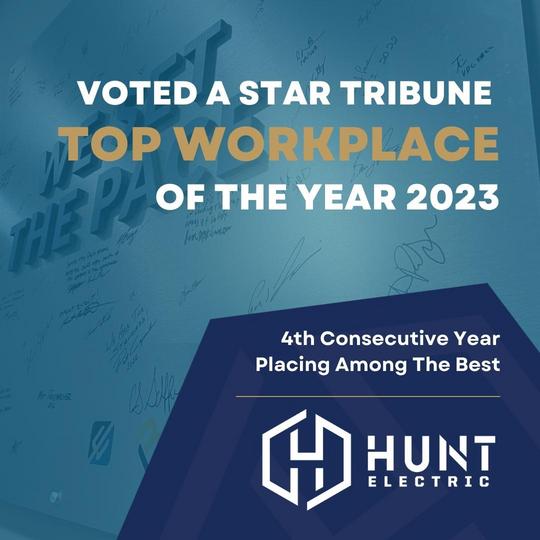 BLOOMINGTON, MN - June 14, 2023 - For the 4th consecutive year, Hunt Electric is honored to be recognized as a Top Workplace in Minnesota.  We are also thrilled to announce that we won the Cultural Excellence Award for Compensation & Benefits.  This award recognizes our thoughtful and comprehensive benefits package, and highlights our commitment to the health and wellbeing of our employees and their families.
A big shout-out and THANK YOU to our employees! We couldn't have earned these awards without you!
With that being said, we have room to grow and we'll get you where you're going….and then some!  A growth mindset is evident at every level of our business:  even our board chairman, a master electrician, stays current on his education.
Check out our careers page and see what opportunities would be a good fit for you!