Wednesday, March 3, 2021
Hunt is Recognized with 2021 National Top Workplaces Award
Over the past 5 decades, while our capacity has grown, leadership has transitioned, and our talented workforce has multiplied, we've worked hard to stay true to our roots. 
After expanding into a new headquarters just over 5 years ago, we might have a little more leg room in our offices now – but we're still family here.  And now we have proof!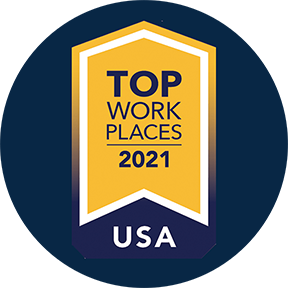 BLOOMINGTON, MN - March 3, 2021 -  In 2020, Hunt Electric was honored to be recognized as a Top 150 Workplace in Minnesota and thrilled to also receive one of fifteen specialty awards for Outstanding Benefits. This award recognized our thoughtful and comprehensive benefits package, highlighting our commitment to the health and wellbeing of our employees and their families.
In addition to our Minnesota recognition, Hunt Electric has also been recognized as one of the 2021 National Top Workplaces. Yep, you read it right - - that is for the entire US of A!
Energage published it's first-ever national Top Workplaces lists – a program that recognizes high-performing companies based solely on employee feedback. This award celebrates companies that prioritize a people centered culture and give employees a voice.  Several aspects of workplace culture were measured including company direction, support and encouragement of employee development, appreciation, leadership, and the basics like pay, benefits, and flexibility.  See the entire list of qualifications that were measured HERE. 
Whatever the measure – we're in it for a job well done.  A big shout-out and THANK you to our current employees is well deserved! 
With that being said, we have room to grow and we'll get you where you're going….and then some!  A growth mindset is evident at every level of our business:  even our board chairman, a master electrician, stays current on his education.
Check out our careers page and see what opportunities would be a good fit for you!