Tuesday, August 23, 2016
MNSHARP Construction Award
Ryan Companies has received a MNSHARP Construction award for work on the nearly one-million-square-foot Amazon Fulfillment Center in Shakopee, MN.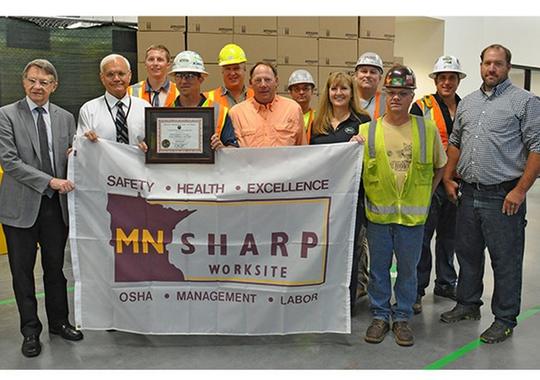 The award celebrates major construction companies in which managers and employees work together to develop safety and health programs that go beyond basic compliance with all applicable OSHA standards and result in immediate, long-term prevention of job-related injuries and illness.
Hunt Electric takes safety very seriously, not only on this project, but in general.
Read more here >>>  https://www.cpexecutive.com/post/ryan-cos-earns-safety-construction-award-for-amazon-facility/
Pictured above: (Front row, left to right: Ken Peterson, Commissioner MN Department of Labor & Industry; Mike Seliga, OSHA Consultation; John Gaddini, Regional Safety Director, Ryan Companies; Al Green, Senior Superintendent, Ryan Companies; Diane Randolph, Safety Director, Danny's Construction; Nick Shaffer, Safety Director, Amerect Inc.; Jared Ziemke, Senior Project Manager, Ryan Companies. Back row, left to right: John Kooistra, Project Engineer, Ryan Companies; Jim Larson, Safety Consultant, UBSAFE; Joe Dame, Hunt Electric; Mike Spillane, Hunt Electric; Ryan Harstad, Assistant Superintendent, Ryan Companies.