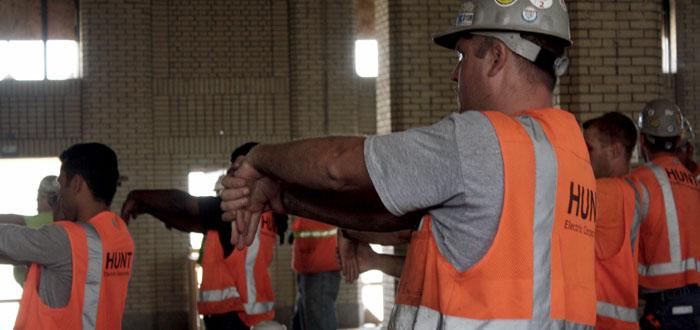 Safety
At Hunt, safety is the foundation of our business. With continuous improvements in safety, we have maintained record-setting safety performances year after year. By keeping our safety process relevant and real, we protect our employees and our customers. We are committed to quality and consistency in the materials we use, and the training we provide.
Training, Training, Training
Each month, new hires report to our corporate office for 5+ hours of training in course subjects such as hazard communication, fall protection, mobile earth-moving equipment, lockout/tagout and electrical safety work practices. In addition, we continuously conduct other training and have a commitment to awareness to ensure everyone follows our zero injury culture.
New Hire Orientation + Re-Orientation
Site Specific Orientation
Phased Orientation
Leadership Training
Weekly Toolbox Talks
Daily Stretching
Daily Pre-Task Planning
Our Commitment to Safety
We invest significant resources into employee training and jobsite safety. On average, each year we:
Distribute 97,000+ Personal Protective Equipment items including safety gloves, hard hats, high visibility vests, safety glasses, etc.
Typically work over 1 million man hours without a lost time injury
Complete over 225,000 Stretch & Flex sessions
Complete at least 1,400 Safety Audits
Perform 775+ hours of safety training
N3L3 Initiative
As a company, we provide the tools, equipment, and instruction to allow our electricians to work safely. However, many injuries are caused by the personal choices made leading up to the incident. N3L3 is a way to remember to "Take The Next 3 Seconds To Make Sure They Aren't Your Last 3 Seconds." 
This is one of the primary focuses of our safety program and we use this 3 second hazard assessment to protect our employees lives, livelihood, and loved ones.
Our Safety Team
We truly believe that safety is the job of every employee at Hunt Electric and we have an exceptional team of over 10 full time safety employees to lead the way.