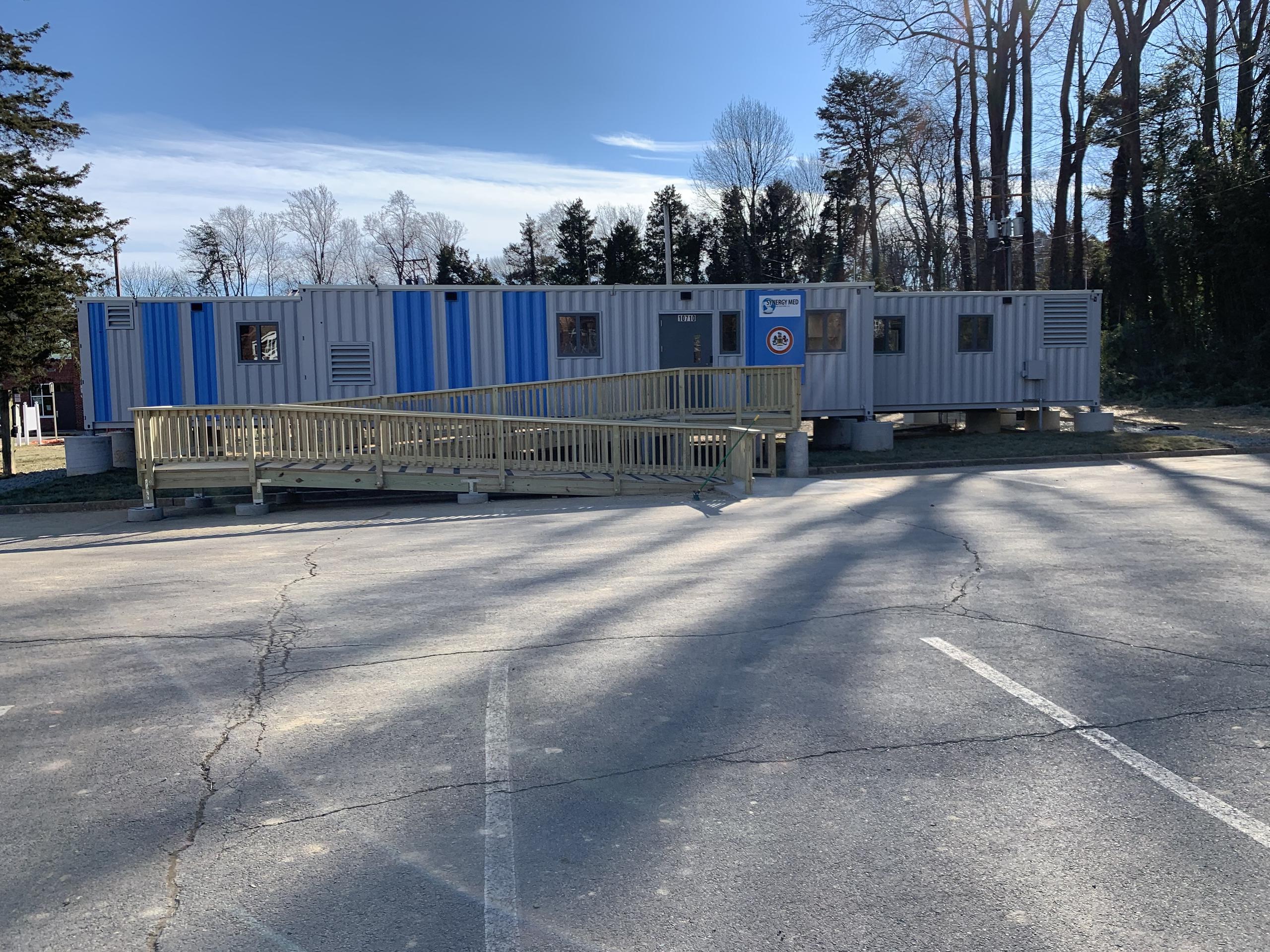 Wednesday, January 27, 2021
The Future is Fairfax
By now, it's a familiar story.  Countries worldwide have struggled to meet the infrastructure demands of the COVID-19 pandemic - with images of overwhelmed hospitals, testing facilities, and vaccination operations near-constant features on the nightly news.
Simply put:  Space is in short supply.
FAIRFAX, VA - January 27, 2021 -  Like many communities, Fairfax County, Virginia made space for COVID-19 operations by re-configuring existing local buildings. Unfortunately, this displaced laboratories used by the county's Environmental Health Department. With the pandemic approaching its second year, Fairfax County Health Department (FCHD) knew it needed a way to sustain pandemic response efforts without extended disruption to other departments.
That's where we came in.
FCHD turned to SynergyMed and Hunt Electric for a custom-built, containerized solution. Using modular construction, our team designed and fabricated five 8x40' laboratory container units, creating 1,500 square feet of additional space for county use.  This semi-permanent campus allows the FCHS Environmental Health department to continue vital operations - without compromising Fairfax County's ability to respond to the COVID-19 crisis.
What's a Containerized Solution?
In May of 2020, Hunt Electric and Synergy Med teamed up to help meet the acute medical care, testing, and storage facility shortages caused by the COVID-19 pandemic. Our solution? Multi-functional, mobile container units. These modular units can be deployed as single or multi-unit facilities and are outfitted to meet the specific needs of each client.
The Fairfax County project marks the first time multiple units have been deployed as a single containerized medical solution, demonstrating their potential for flexible disaster response. These American-made solutions can be scaled-up and customized to meet acute infrastructure demands for crises of all types – and now, it's more than a theory.
Rapid Deployment for Real-Time Response
FCHD needed a reliable, cost-effective way to create extra space – and they needed it fast. In order to meet sunset dates for federal funding, the project would need to be delivered by the close of 2020.
Our team was up for the challenge. Despite pandemic constraints, peak holiday season hold-ups, and a cross-country journey from Minnesota to Virginia – they moved from drawing board to delivery in just six weeks!
Custom-Built Means Total Control
No two crises are the same – modular construction allows us to tailor our solutions to each client's unique needs. For FCHD, this meant maximizing usable space, designing to specific structural requirements, and outfitting each unit with right lab equipment for the job.
Rather than re-locating the department wherever there was available space, the mobile units allowed the county to select an ideal location just 100 meters from the permanent facility. A back entrance facing the main building allows staff to easily move between the two facilities, while a separate patient entrance and access ramp help maintain social distance measures.
One Solution: Endless Possibilities
Our team developed it's first medical containerized solution to meet acute medical infrastructure needs resulting from the COVID-19 pandemic. But, as the FCHD lab case shows, modular construction can revolutionize disaster response well beyond healthcare.
Here's how containerized solutions change the game:
The Right Resources, Ready-Made: Custom container units can be designed and deployed as needed, providing a ready-made solution to meet the specific crisis at hand.
Rapid Response – When and Where We Need It: We can't predict where emergencies and natural disasters will occur, but containers improve our ability to rapidly develop and deliver relief.
Re-Use and Redeploy: Unlike permanent structures, mobile containers can be deconstructed, reconfigured, and redeployed to move efficiently from one crisis to the next.
Still Curious? Watch this video and visit the Hunt Newsroom to learn more about how we're powering the future of crisis response.