Thursday, February 23, 2023
Hunt Gives Back Through Employee Match Program
We give our employees plenty of opportunities to get involved with something they're passionate about.  This time around, we chose 3 companies to be a part of our end of the year employee match program.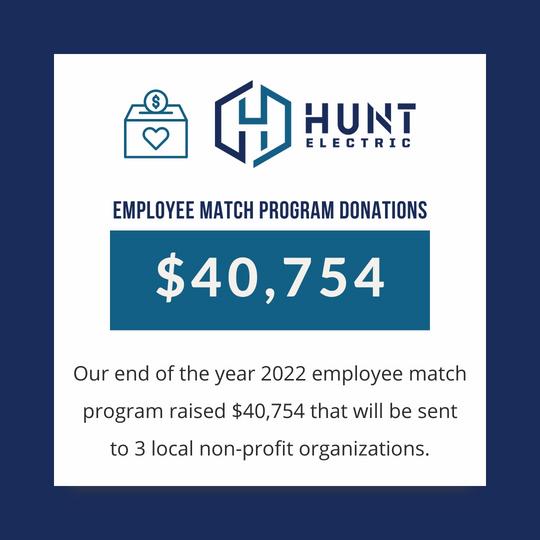 Local Charity Organizations Receive Donations
February 2023 – Bloomington, MN -  Each year the folks on our Employee Engagement Committee round up a list of local organizations that we'd like to consider donating our annual employee match funds to.  The list is long, votes are cast, and we pair it down to three.
Then, for most of the month of December, employees are able to drop off a monetary donation or have it directly taken from their payroll check.  Hunt Electric makes a 100% company match donation.
As expected, the generous employees of Hunt Electric blew it out of the water for the 2022 go-round and the total amount raised (including company match) came out to be $40,754.
Believet, Change The Outcome, and Lake Street Works – be on the lookout for a check in your mailbox!
Believet
Believet Canine Service Partners provides highly skilled service dogs, free of charge, to disabled veterans. Veterans served our country; now it's our turn to serve them.
Lake Street Works
Lake Street Works brings hands-on training to the Lake Street neighborhood of Minneapolis, at no cost to students. After completing their courses, students are ready to be an apprentice in a trade or acquire additional skills at a technical school – which Lake Street Works will help facilitate. 
Change the Outcome
Change the Outcome works to raise awareness and understanding of substance use disorder and the opioid/overdose epidemic to reduce stigma, shame, and judgment.
A round of applause for the good work these organizations do!