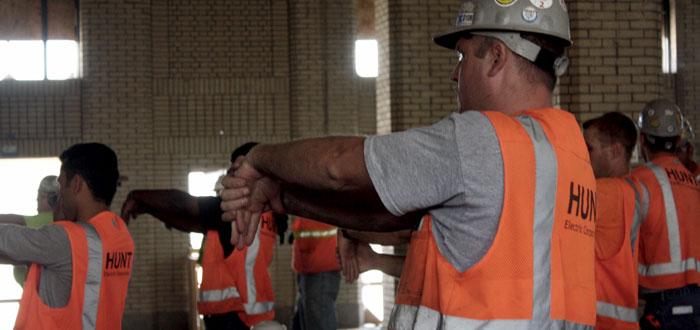 Occupational safety is something we take seriously. We have distinguished ourselves as a leader in electrical safe work practices.
Continuous improvements in safety have helped us maintain record-setting safety performances year after year. By keeping our safety process relevant and real, we protect our employees and our customers. Additionally, we are committed to quality and consistency in the materials we use, the training we provide and the entire design, build and maintenance process that we offer. Safety is built into every layer of our business.
Level 2 Contractor Status
Again in 2016, Hunt is certified as a Level 2 participant in the newly reconfigured Minnesota CHASE program.  Hunt has been a Level 2 participant for 7 years and we are now qualified for Level 3 Jobsites which is for applicants striving to be an industry leader with a very comprehensive safety and health program.  Level 3 is site-specific compliance assistance with MNOSHA's  cooperative compliance partnership program (CPP) and is the highest level offered in the program.  Level 3 partnership is geared toward projects lasting at least 6 months and up to 18 months.  As of June 2016, there are 16 Level 3 project sites in Minnesota and 2 of them are Hunt Electric's.   
Level 3 Chase Project
Our first solo cooperative compliance partnership (level 3) CHASE project is at the API Training Center.  Lisa from OSHA compliance comes out on a monthly basis and inspects the entire project.  We are responsible to ensure any safety issues are corrected job wide. Perks in having a level 3 project include:  The cooperative compliance partnership program offers - no surprise visits by OSHA enforcement the entire duration of the project. It can bring all participating contractors safety awareness to the next level and mentor other contractors in basic safety requirements to encourage the establishment of better safety programs which make our jobsites safer.
Hunt Electric foremen participate in quarterly safety trainings throughout the year in order to continue their safety education and to provide us with valuable feedback that keeps our work environments safe.