Hunt Electric has a full-time design team on staff that specializes in BIM design and coordination.
Our team works in correlation with multiple disciplines on projects to add precise electrical value into a BIM model. We have designed and implemented a considerable number of successful BIM projects, and continue to lead the industry in creating new and innovative project efficiencies.
We use the latest modeling software including AutoCAD, Revit and NavisWorks to ensure an accurate and well-designed model.  From preconstruction simulations to precision coordinated construction documents, our BIM capabilities offer an ever growing list of benefits.
Each BIM project varies in size and the level of detail, depending on our customers needs. Our involvement in BIM projects has given us a robust range of experience and history.
Our dedicated BIM team offers a host of valuable services, including:
Technical software resource guidance
Data required to facilitate the project modeling needs of other team members
Locate cost and schedule savings
Delivery of an accurate "record drawing" model
Participation in design coordination meetings
Verification of optimal systems layout prior to the start of construction
Identification of opportunities for off-site fabrication and "just-in-time" delivery of pre-assembled components
Increased safety through a less cluttered site
Reduction of field installation conflicts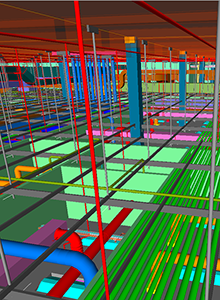 Some of the latest models we have built include:
Mayo Data Center
Orchestra Hall
Allen Memorial Hospital
Hard Rock Cafe
Joplin Hospital
Four Winds Casino
Allina Data Center
Union Depot Station
Polar Fab
More Information
Check out our Newsroom to read about our latest progress, news, and events.
Newsroom